PLATINUM MENU Chicken only contains high-quality ingredients that are also suitable for human consumption:

83 % poultry meat, whole fresh pieces

Rice as high-quality ingredient for the carbohydrate component

Vegetables with natural antioxidants

Oils and fats contained in fresh meat for the optimum fat balance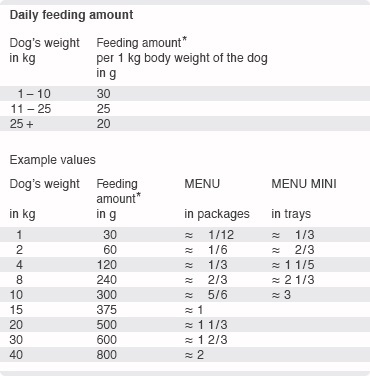 * Recommended guideline for the average active dog.
After opening please store PLATINUM MENU in the refrigerator and consume it within 3 days.
Fresh chicken meat (83 %), broken rice, dehydrated vegetables (broccoli, carrots, leek), salmon oil, dried brewers' yeast, olive oil.
Vitamins: Vitamin D3 (3a671) 480 IU, vitamin E (3a700) 60 mg. Trace elements: Copper (E-4; cupric sulphate, pentahydrate) 1 mg, zinc (3b603, zinc oxide) 15 mg, selenium (E-8; sodium selenite) 0.03 mg.